CIRCLE H GUEST HOUSE
=====Availability Calendar=====

==========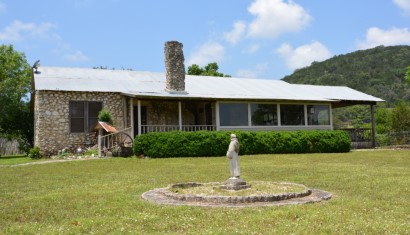 Welcome to our Guest House at Circle H Ranch! Experience a unique stay on a working exotic animal ranch right down the road from the Frio River in Leakey, TX. You're sure to be amazed at the beauty of the animals roaming freely through the hills surrounding you as you relax on the spacious back porch. Experience nostalgia as you relax in our historic Guest House that is completely modernized with amenities including free Wi-Fi. The main GUEST HOUSE includes 3 bedrooms with 2 bathrooms. An additional, adjoining BUNK HOUSE sleeps 8 and has its own private bathroom.
The well-equipped, spacious kitchen includes a microwave and dishwasher.  If you don't feel like using our real stuff, don't forget to bring along your disposables, foil, Ziplocks, etc.  A barbecue grill and a firepit are also available for outdoor cooking.  Remember your charcoal and s'mores.  The lovely patio area is perfect for dining alfresco.  Sit back and enjoy the breeze while watching the kids play in the large, fenced yard, which happens to be great for games like football and washers or any other games you want to bring along.  No kids to watch? Then, enjoy the exotic wildlife that will meander past the house. Please note the natural spring pool at Circle H Ranch is private to those guests staying in the Lodge. However, the Frio River is right down the road and an easy, quick drive to get to from our Guest House at Circle H Ranch. Please bring your own river towels. River shuttles and parking are available at the tubing outfitters to make your river tubing experience a breeze. If the pool happens to be available during your stay, we're happy to let you use it.
Before your arrival and during your stay, we are available by phone, text or email to answer any questions you or your guests may have. There is always someone on ranch to assist with any needs that may arise. Rest assured you will have a private experience at the GUEST HOUSE without having to worry about loud or intrusive neighbors right next to you. Enjoy the sounds of nature while watching exotic animals stroll past. Star gazers prepare yourself for hours of enjoyment. This is truly an exotic vacation without leaving Texas. Relax and prepare to enjoy.
RESERVATION INFORMATION:
GUEST HOUSE Off Season Rate (After Labor Day Holiday up to Memorial Weekend Holiday) *EXCLUDES HOLIDAYS* 
$595/ per night (2 night minimum) for up to 6 people or add Bunk House for additional $295/night for up to 8 more people. Guest House and Bunk House accommodate 14 people maximum.

Nightly Summer Rate $795/ per night (3 night minimum)for up to 6 people or add Bunk House over over 6 people up to 14 people maximum for an additional $295/night.

Holiday Rate $895/per night (3 night minimum)for up to 6 people or add Bunk House over 6 people up to 14 people maximum for an additional $295/night.
***CHRISTMAS EVE AND DAY*** $1500/ per night (3 night minimum)for up to 6 people or add Bunk House over 6 people up to 14 people maximum for an additional $295/night.

March Rates $795/ per night (3 night minimum) for up to 6 people or add Bunk House for additional $295/night for up to 8 more people.

THE GUEST HOUSE SLEEPS UP TO 14 PEOPLE! 
The GUEST HOUSE can either be rented completely by itself OR alongside the Lodge to accommodate larger groups of 16-30 people. 
512-731-4655 TEXT or CALL to make a reservation.

EARLY ARRIVALS/LATE DEPARTURES: As available, Early Check-in at 12:00 PM or LATE Check-Out at 2:00 PM (EXTRA 4 HOURS) can be requested for $250 each.

PAYMENT
Upon booking a reservation 1/2 of the money due is collected as a deposit to hold the selected dates and is payable immediately to Circle H Ranch. Reservations cannot be held without a deposit. The remaining balance is due within ONE MONTH of reservation. We accept DIGITAL CHECKS & CASH for no additional charge. No cleaning deposit is required. ***At time of Booking, a Credit Card is kept on file for ALL reservations, regardless, if paying by check or cash. Any damages caused by guests, disregard of check-out procedures or need for excessive cleaning will be charged to the credit card on file. The person who makes the reservation is responsible for their group. A $250 cleaning fee and $250 property access fee will be incurred per each reservation. All other available rentals and/or special catering are add-ons and are not included with the house rental quote unless otherwise explicitly stated in a written quote provided to you by Circle H Ranch. Thank you! Call or text Jen to pay your deposit at 512-731-4655.

CANCELLATION POLICY
We understand life happens, and there are times when cancellations are unavoidable. No refunds are provided; HOWEVER, we will apply your payment to us towards a future reservation with us booked within one year of the original reservation. A $250 re-booking fee applies.
THIS AND THAT:
Smoking & Vaping inside Circle H Ranch Guest House is prohibited.
No pets.
Day Guests must be approved. A daily access charge of $25/ per person applies.
Other activities in the area include hiking, horseback riding, swimming, fishing, photography, golf, summer rodeos, tubing or floating the Frio River, antique shopping, retail boutique shops, motorcycle rides or car rides on "The Three Sisters" (RR 335, RR 336, RR 337), nightly family-friendly dances at Garner State Park, helicopter rides over the river and through the hills out of Concan, local bars, and live music. In addition, the numerous migratory routes, which cross this area, provide almost limitless opportunities for bird watching.
Restaurants, dine-in or take-out, are a short drive from the ranch. Garner State Park is 8 miles from the lodge. Lost Maples Natural Area is a 30 minute drive. The city of San Antonio is approximately 1 1/2 hours away. It is 6 miles to the county airport.
Amenities include:
Suitable For Children of All Ages
Air Conditioning
Towels Provided
Private Yard
Ceiling Fans
TV
Rural/Countryside Retreats
Linens Provided
Secure Parking
Internet Access
Toaster
Staffed Property
Stove
Grill
Central Heating
Dishwasher
Freezer
Cable/satellite TV
Iron
Refrigerator
Hiking Trips
Microwave
Mountain Views
Wi-Fi
Patio
Fireplace
Deck
Nearby Activities:
There Is A Golf Course Within 30 Mins Drive
Golf Course Is Within 15 Mins Drive
Horse Riding Nearby
Fishing Nearby
Watersports Nearby
Click here for some Testimonials.